In Their Own Words: Jasmyne Spencer, OL Reign
Go in-depth with the OL Reign Winger on her rise on and off the field of play
In Their Own Words: Jasmyne Spencer, OL Reign
Editor's Note: "In Their Own Words" is a series of conversations intended to uplift, honor, and showcase the voice and experience of a multitude of players, coaches, and executives across the NWSL. To best honor these individuals, participants in this series will have their answers published without commentary – merely edited for clarity and brevity.
Jasmyne Spencer is a nine-year veteran of the NWSL and a Bay Shore, Long Island native. A graduate of the University of Maryland, Spencer enjoyed spells at the Washington Spirit, Western New York Flash, and Orlando Pride before joining her current team, OL Reign, in January of 2018. Off the field, she is the creator of Jas It Up, a sustainable lifestyle brand that strives to challenge the current narrative of the fashion industry and bring to light the dire need to protect our environment.
Q: What was your experience growing up as a Black women soccer player?
JS: It's different for everyone. Some things we share, but it's a diverse and complex intersection – especially in a sport that is predominantly white. I grew up playing on a very diverse team, and as I made my way through the elite levels, I saw that diversity shrink. But, when I was at Maryland there was quite a few girls of color on the team – eight, including myself, when I graduated. Most of my experiences have been shared with women who looked like me pretty much throughout the way, which is just pretty cool.
Q: Growing up, who were your inspirations?
JS: My two older brothers. They're the reason I started playing, and they've been my role models my whole life. I, for sure, want shout them out. I grew up in a predominantly Black neighborhood, so most of the people who influenced me from a young age were people who look like me. Early on, I admired the likes of Kym Hampton, Teresa Witherspoon, Venus and Serena Williams. Anyone who looked like me made me feel like I was capable of achieving anything.
It's so cool to see Serena join the league, too. I'm hoping she comes to all the games so I can meet her in real life. I've seen her play – both of the Williams sisters, actually. I saw Venus at the US Open a couple years ago and Serena in Melbourne. It would be cool to just meet them in real life.
Q: Throughout your career, what has your sense for the power for change this sport has?
JS: Sport gives people opportunities in life that they, perhaps, would not have been able to get without it. What if they had not been able to participate? That's at every level, whether it gives them a sense of belonging and making friends or social skills. It doesn't have to be at the highest level, where you have a platform that you can be influential with.
Throughout history, countries have stopped wars to come together over sport. It's something that brings people together and, given the current climate in this country, a lot of athletes have felt obligated to share their experience and use their voice to bring people together. A lot of people recently have been talking about racial equity, but there's many types of equity – gender equity included. There are so many things that people have been vocal about, and it's a good time to do it. Where else other than sports are you going to get so many people from different walks of life and in one room, right?
Q: It seems the wider conversation has gone beyond equality to, as you said, equity.
How does our sport give equity to Black women – ownership, increased media coverage?
JS: It's definitely multifaceted. It's also about accessing the game, ensuring equal opportunity no matter what the socioeconomic background of a person is. Everyone should be able to access the game. That also works its way all the way up into ownership groups and front offices. We have to make sure that at the very top, there are equal parts of different people represented. Whether it is men, women, Black, white, or Asian – it doesn't matter. There should be someone in those rooms that represents every demographic.
This is the number one sport in the world. Everyone loves the sport, and everyone should be given a chance to be a part of it whether they're playing, coaching, making management decisions. Whatever capacity they are involved in – all those different types of voices need to be heard and seen.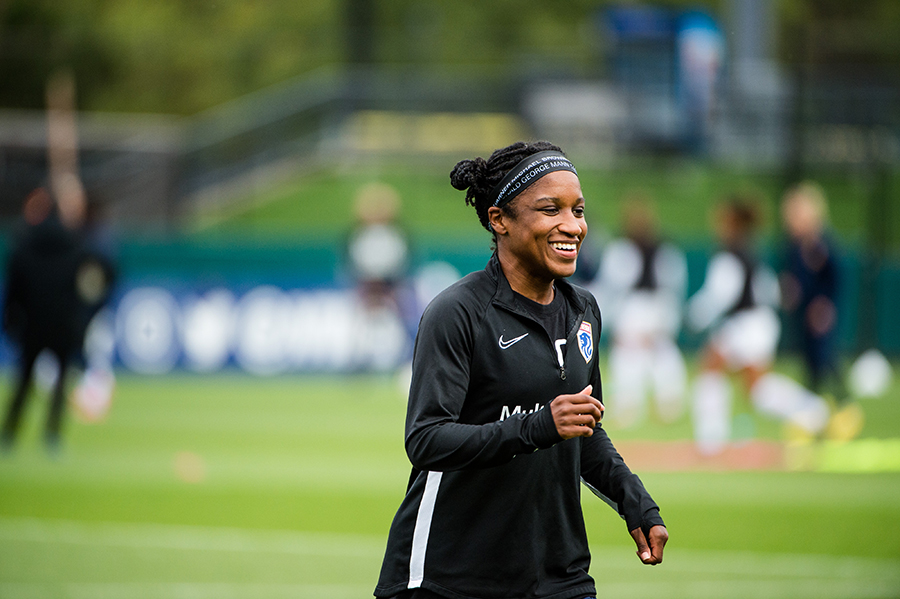 Q: OL Reign were one of the more vocal clubs during the conversations on race and injustice in America in 2020. How were those conversations started?
JS: It was a collective effort on two fronts. We had nine women of color on the roster. We got together, all the women of color, to check in and see how all of us were feeling. It was a difficult time for all of us, it really was. All of our teammates and coaches were checking on us, too. That was the next step – when people around us asked us "how can we support?", we had to make sure they understood what that type of support looked like. Everyone at OL Reign was incredibly supportive.
We created a safe space across the organization and started having conversations. Those conversations led to ideas, and those ideas lead to actions. It's incredible that we were able to achieve that in such a short period of time, and that goes to show how great of an organization the Predmore's have established. That sense of unity and respect across the board has been implemented way before I got here, and the club is well-known for it. I hope that the conversations we started this past year continue and propel the club even further forward.
Q: The video on privilege was one of the more powerful pieces to come on Utah. What spurred that on?
JS: We as a club – staff, ownership included – wanted to show solidarity for the Black Lives Matter movement. With that, though, was a desire to do it in an authentic manner that wasn't performative. We thought the best way was shine light on the privileges that exist in and outside of sport. People categorize us all together because we are professional athletes, but outside of this very, very small space we share on a day-to-day basis, we are separated based on circumstances that are out of our control. Sitting down and showcasing that was powerful.

Q: You've mentioned previously that the opening match of the Challenge Cup was "profound". What made it profound?
JS: That was the first game I had played since I tore my ACL. My return gave me a lot of emotions that had absolutely nothing to do with that moment in time. However, it was amplified by the fact that, as an organization, we all came together and decided to collectively kneel for the anthem. When you talk about feeling supported – I felt supported in every way possible. As a Black woman, as an athlete, as someone coming back from long term injury. To share such a powerful moment with the forty individuals we had in the bubble together was special.
Q: Last year, the Black Women Player's Collective was founded. What is the collective's mission?
JS: First and foremost, to provide a space for all the women of color to feel supported. We are the minority, and what we're excited about is rolling out some initiatives that are going to help provide young girls of color access to the game and other opportunities for them to succeed. On top of that, we're really aiming to change the narrative around black women not only in sport but in every other major industry.
Q: From your perspective, what's special about the club's work with the Black Future Co-Op – a relationship that extended past the Fall Series?
JS: The Black Future Co-Op was founded by four incredible black women with the mission of providing financial resources to Black-owned businesses throughout the whole state. It's led and driven with the mission of helping the Black community across the state of Washington. I think that's incredible, because who else knows better what the Black people in this community need than the Black people who come from this community?
It was a no brainer to partner with them to make sure that, beyond the Fall Series, we show our support of the Black community that we play for. We don't only represent Tacoma because we're based in here, or just Seattle because we used to be there. It's this state, it's the Pacific Northwest. It's really special to have formed that partnership and continue to work with them.
Q: How has preseason been, and what is the club's outlook heading into the Challenge Cup?
JS: It's been so fun. We're all just excited to have some normalcy. We understand the challenges that COVID brings, and how to best maneuver them to make sure we all stay safe. We're excited at the opportunity to play for a full year. This club again, like – apart from year one where I was battling them at the at the bottom of the table, they have been exhibiting excellence. All of our roster moves are reassuring us and basically the rest of the league like, listen – we are or not messing around. We're out here trying to win two championships this year – first the Challenge Cup, and then the regular season.
Q: Tell us about Jas It Up. Where did the idea for the brand come from?
JS: Honestly, the brand is an extension of myself. It started as custom headbands because I always wear crazy headbands when I play, and I wanted to encourage people to embrace their individuality. Additionally, I am super passionate about the environment. Over time, I started to build in my ecofriendly mission. When I was hurt, I had time on my hands and felt like the last piece that I hadn't really fully developed into my brand was creating equal opportunity.
I had been mentoring young kids of color and doing free clinics, but I think I was like 'I can put this all together'. This is what I care about, what I'm already doing. Let me rebrand as a complete clothing line and share my message wider. From there, Jas It Up in its current form was born. It wasn't even really about the apparel or starting a full-blown clothing company. It was just how can I fully express myself and the things that I'm passionate about and have the greatest impact.
Q: Both on and off the field, what are your goals for 2021?
JS: On the field, I want to reach new heights. When I was injured, I was playing the best soccer of my career. COVID hit during my recovery too, so it's been a tough road back. I'm really excited to just remind everyone of how good I am and help my team win a championship in the process.
Off the field, it's continuing my work with the BWPC. It's such a pleasure to work with other incredible Black women across the league and find ways that we can make the sport more inclusive. I'm excited to share our stories with the world, and in "The Call Up" the messages we all carry are extremely important and have been overlooked for far too long. I'm excited for those stories to finally be told.